The Spaghetti Catalyst
Petit "Best of" (et spoilers) :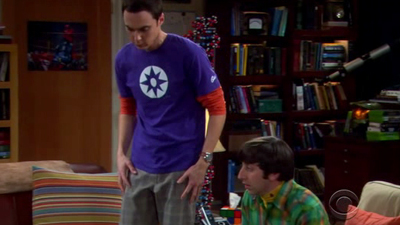 Howard:
Yeah, he's over it; that's why he's been whining all day about trying to invent that memory-wiper gizmo from Men in Black.
Sheldon:
Is he making any progress ? Because I'd like to erase Ben Affleck as Daredevil.
Howard:
So would Ben Affleck.
Sheldon:
Go, Team Leonard !
*Humm... Et on se demande pourquoi ce signe signifie "looser" ?!*
Ouch, rude poursuite ! Et la scène où Penny attend le 3eme
triple*knock
est énorme !
Raj:
Hey, Leonard ?
Leonard:
Yeah
.
Raj:
I haven't had sex in a year.
Leonard:
Where are you going with this Raj ?
Raj:
Don't flatter yourself, dude. I want to go out and meet a woman.
Haaa Raj, qu'est ce qu'on ferait sans toi ? ^_^;
Tout de même une belle évolution depuis le diner de l'épisode 2.21. *__*