The Large Hadron Collision
Petit "Best of" (et spoilers) :
Leonard:
This tray contains clues as to what you and I are going to be doing on Valentine's Day.
Penny:
Oh. Wow. Okay. Let's see. We've got, uh, milk chocolate, Swiss cheese, fondue. My lactose-intolerant boyfriend is going to eat all this. Then I'm going to climb on his back and rocket to the moon ?
Wow ! Voilà que Penny fait des blagues sur "l'intolérance au lactose" de Leonard !? C'est pourtant l'apanage de Sheldon d'habitude. *____*;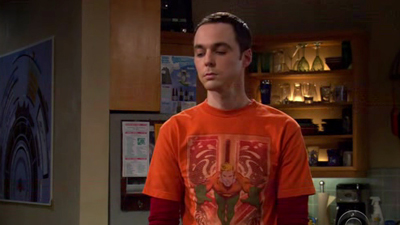 Leonard:
We also put in what happens if one of us wins a MacArthur Grant, or if one of us gets superpowers, or if one of us is bitten by a zombie.
Sheldon:
He can't kill me, even if I turn.
Penny:
Is there anything in there about if one of you gets a girlfriend?
Sheldon:
No, that seemed a little farfetched.
Ceci-dit, je trouve que prendre l'assurance de toute action lors d'une transformatin en zombi devrait être une close obligatoire à tout contrat de collocation !
Sheldon:
Round two: Leonard Hofstadter, Darth Vader, Rupert Murdoch.
Leonard:
Rupert Murdoch?
Sheldon:
He owns Fox, and they cancelled Firefly.
ARGH !
Y'a pas à dire, ça c'est démoniaque ! è_____é
Sheldon:
I believe you know why I'm here.
Penny:
Well, I always figured it was to study us, discover our weaknesses, and report back to your alien overlords.
Sheldon:
Yes, amusing. Extraordinary intelligence might well appear extraterrestrial to you, but let me be more specific.
Penny et le retour des vannes d'aliens, Yay !
*fan*
Je suis plutôt surprise que Sheldon y trouve le répondant, il est plutôt mauvais dans ce genre de ping-pong : soit il tape dans le premier degré (sans faire exprès), soit il sèche (cf vs Kripke ou Leslie).
Mouhahaha, le pur look de vieux couple. Terrible ! °__°;
Et qu'est-ce que Penny fiche ici alors qu'elle pourrait être tranquille dans son appartement !?
Penny:
Happy Valentine Day ♥
Raj:
This is going to be the best Valentine's Day ever.
Hourra pour Raj, et pour le premier épisode de Saint Valentin de toute la série ! *3*